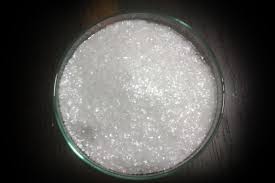 Sharjah Chemicals is leading Supplier, Manufacture and Exporter of Yara Yara in Sharjah UAE, Al Qusais, Deira, Saif Zone, Fujairah,Dubai, Abudhabi, Ajman, Diera, UAE Middle East, Al Quoz, Jebel Ali, Umm Al Quawain, Ras Al Khaimah, Masafi, Khor Fakkan, Al Hayl, Al Ain, Ras Al Khor Industrial Area, Al khubaisi,  Um Ramool Industrial Area, Al Qusais Industrial Area,  Jebel Ali.
Yara Yara crystals that have the aroma of neroli / orange blossom with added sweetness and a slight 'elastoplast' finish. Also known as nerolin / nerolin yara / beta-naphthol methyl ether. It is a stabilizer found in gunpowder, particularly smokeless gunpowders. A powerful traditional perfumery material with a sweet floral aroma of orange blossom, acacia and neroli. Widely used in classic fragrances.This is a highly refined >99% pure grade, made especially for use in perfumery. It comes as pearlescent powdery crystals, that are rather beautiful but take quite a lot of agitation to dissolve successfully so for those who don't have access to an automatic stirrer or shaker we also offer it at 5% in ethanol through this product.
The perfect addition for sweet, narcotic floral perfumes.
To use you will need to dissolve the crystals in a little ethanol, perfumers alcohol or, depending on what you are making, you can place them directly with the raw materials and dissolve over a gentle heat.Melting in a bain marie over a gentle heat also works.
Dissolving rates:
Dissolve up to 1g in up to 10g perfumers alcohol
If you use a greater amount than 1g yara yara in the above dilution quantities not all the crystals will dissolve.
Application:
It is used to blend low-grade colored soap, detergent and daily necessities. The scent type is orange blossom, jasmine and lily. In addition, it can be used to impart heavier floral notes to the low-grade cologne and flower-flavor flavors. It can also be used for plastic products that require alkali and heat resistance, and aromatherapy of synthetic rubber products.
This product is a fragrance with a scent of orange blossom, used as a soap essence and a cheap cosmetic fragrance. This is a pharmaceutical intermediate used to produce naproxen, an anti-inflammatory analgesic.
Mainly used for blending soap flavors, popular toilet water and cologne.
Specification:
| | |
| --- | --- |
| Chemical Name | β – Naphthyl Methyl Ether |
| Formula: | C11H10O |
| Appearance | white crystalline flakes,orange flower |
| Melting Point |  72.00 to 76.00 °C. |
| Assay | 99.00 to 99.98 % |
| Soluble in | Alcohol |
| Insoluble in | Water |
Sharjah Chemicals offers highest quality products in Paint and Cleaning Solvent, Tank cleaning, Detergent, Degreaser & Floor care chemical. We assure for quality and ensure that only the best is catered to the customers.Our basic motto of the company is to give a better product to the customer at the lowest rate. We are keeping ready stock of Yara Yara , for more information, any support and price, Feel free to contact us through our Email id sharjahchemicals@gmail.com