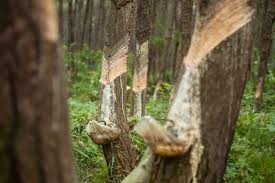 Sharjah Chemicals is leading Supplier, Manufacture and Exporter of Turpentine in Sharjah UAE, Al Qusais, Deira, Saif Zone, Fujairah,Dubai, Abudhabi, Ajman, Diera, UAE Middle East, Al Quoz, Jebel Ali, Umm Al Quawain, Ras Al Khaimah, Masafi, Khor Fakkan, Al Hayl, Al Ain, Ras Al Khor Industrial Area, Al khubaisi,  Um Ramool Industrial Area, Al Qusais Industrial Area,  Jebel Ali.
Turpentine is a fluid obtained by the distillation of resin harvested from living trees, mainly pines. It is mainly used as a solvent, and as a source of material for organic syntheses.One of the earliest sources of turpentine was the terebinth or turpentine tree, a Mediterranean tree related to the pistachio. Important pines for turpentine production include: maritime pine, Aleppo pine , Masson's pine , Sumatran pine , longleaf pine, loblolly pine  and ponderosa pine. Crude oleoresin collected from wounded trees may be evaporated by steam distillation in a copper still. Molten rosin remains in the still bottoms after turpentine has been evaporated and recovered from a condenser. Turpentine may alternatively be condensed from destructive distillation of pine wood. Oleoresin may also be extracted from shredded pine stumps, roots, and slash using the light end of the heavy naphtha fraction (boiling between 90 and 115 °C or 195 and 240 °F) from a crude oil refinery.
Application:
The two primary uses of turpentine in industry are as a solvent and as a source of materials for organic synthesis. As a solvent, turpentine is used for thinning oil-based paints, for producing varnishes, and as a raw material for the chemical industry.
As a source of raw materials in the synthesis of fragrant chemical compounds. Commercially used camphor, linalool, alpha-terpineol, and geraniol are all usually produced from alpha-pinene and beta-pinene, which are two of the chief chemical components of turpentine.
Turpentine and petroleum distillates such as coal oil and kerosene have been used medicinally since ancient times, as topical and sometimes internal home remedies.
Turpentine is also added to many cleaning and sanitary products due to its antiseptic properties and its "clean scent".
Specification:
| | |
| --- | --- |
| Density (@20c) | 0.8600 0.8700 |
| Odor | CHARACTERISTIC ODOR. |
| Pinene Alpha (%) | 60.00         85.00 |
| Pinene Beta (%) | 10.00         30.00 |
| Refractive Index (@20c) | 1.4690        1.4730 |
| Color/appearance | CLEAR, COLORLESS TO SLIGHTLY YELLOWISH LIQUID. |
Sharjah Chemicals offers highest quality products in Paint and Cleaning Solvent, Tank cleaning, Detergent, Degreaser & Floor care chemical. We assure for quality and ensure that only the best is catered to the customers.Our basic motto of the company is to give a better product to the customer at the lowest rate. We are keeping ready stock of Turpentine, for more information, any support and price, Feel free to contact us through our Email id sharjahchemicals@gmail.com