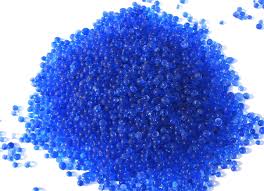 Sharjah Chemicals is leading Supplier and Manufacturer of SILICA GEL BLUE in Sharjah UAE, Al Qusais, Deira, Saif Zone, Fujairah,Dubai, Abudhabi, Ajman, Diera, UAE Middle East, Al Quoz, Jebel Ali, Umm Al Quwain, Ras Al Khaimah, Masafi, Khor Fakkan, Al Hayl, Al Ain, Ras Al Khor Industrial Area, Al khubaisi, Umm Ramool Industrial Area, Al Qusais Industrial Area,  Jebel Ali.
SILICA GEL BLUE : RXSOL-19-1998-025
Silica Gel Blue semi-transparent glassy substance containing an indicator as "Cobalt Chloride" a heavy metal salt. When free from moisture the Granules or beads are dark blue in color. As the beads take up moisture, they turn to light blue gradually & When they turn pink, When the gel has absorbed approximately 8 % percent of its weight in water the colored crystals will turn from blue to pink making an easy visual indicator of whether the gel has become saturated with moisture. It indicates that the gel needs to be replaced or regenerated. The indicated silica gel will still absorb up to 40% of its weight in water vapor just like the non-indicating In fact, it is mainly used as indicator for the extent of dehumidification and moisture absorption in sealed vessels and Silica Gel Breather Industry. Blue Silica Gel is also known as Indicating Silica Gel, Self Indicating Silica Gel, Blue Desiccants, Moisture absorber.
Self-indicating silica gel is non-hazardous and indicating type, we can identify silica gel being full of moisture which can absorb a big amount of water from the internal surface area. Silica gel controls many substances including aromatics, HC1, and CO2 without reacting other substances and destroying toxicity. It constantly changes shape and size of silica gel desiccant.
Product Application:
Breather Transformer
Separation and purification of natural gas
Military equipment
Hearing aids
Catalyst carrier
Product Note:
Product Technical Specification:
| | |
| --- | --- |
| ASSAY (as SiO2) | 97 – 99 % |
| pH | 6-7 |
| Bulk Density | 0.600 – 0.700 gm/cc |
| Loss on Drying % | < 5-6 % |
| Loss on Attrition % | 2.5% |
| Adsorption Capacity at 100 % humidity | 27 – 40 % |
| Friability | 99.5 |
| Choloride (as Nacl) | 0.4 ppm |
| Sulpates (Na2SO4) | 0.5 ppm |
| Amonium (NH3) | NIL |
| Particle size (Mesh) | 1-2,3-4, 3-8, 5-8, 9-16, 16-30 |
| Chemical Formula | SiO2+H2O+CoCl2 |
Available Packing Size: 500 gram , 1, 5 , 10, 25 Kg.
Sharjah Chemicals offers highest quality products in Paint and Cleaning Solvent, Tank cleaning, Detergent, Degreaser & Floor care chemicals. We assure quality and ensure that only the best is catered to the customers.Our basic motto of the company is to give a better product to the customer at the lowest rate. We are keeping a ready stock of SILICA GEL BLUE, for more information, any support and price, Feel free to contact us through our Email id sharjahchemicals@gmail.com
Free Delivery / Supply Locations :
Oman, Bahrain, Abu Dhabi, Ajman, Al Ain, Dubai, Ras Al-Khaimah, Ras al Khaimah, Fujairah, Sharjah, Umm Al Quwain, Fujairah, Ruwais, Mina (Port) Zayed, Khalifa Port, Kizad, Port Rashid, Jebel Ali Port, DP WORLD, Jebel Ali Free Zone, Khor Fakkan Container Terminal, Port Rashid, Jebel Ali Port, Mina Kalid Port, Khor Fhakan Port ( Khawr Fakkan, Khawr al-Fakkan ), Sharjah Creek, Ajman, Port of Hamriyah, Mina Zayed Port, Mussafah port, Khalifa Port, Umm al-Nar Port, Um Al Quwain Port, Saqr Port, Port of Fujairah, Dibba Port, Jebel Dhanna, Mina Al Hamriya, Mina Rashid, All United Arab Emirates.