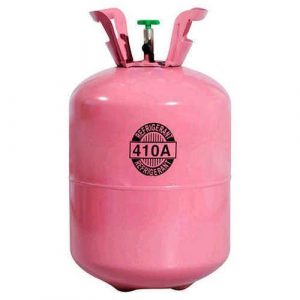 Sharjah Chemicals is leading Supplier and Manufacturer of Refrigerant R410a in Sharjah UAE, Al Qusais, Deira, Saif Zone, Fujairah,Dubai, Abudhabi, Ajman, Diera, UAE Middle East, Al Quoz, Jebel Ali, Umm Al Quwain, Ras Al Khaimah, Masafi, Khor Fakkan, Al Hayl, Al Ain, Ras Al Khor Industrial Area, Al khubaisi, Umm Ramool Industrial Area, Al Qusais Industrial Area,  Jebel Ali.
Product Information:
Refrigerant R410a : RXSOL-66-6625-010
R-410A is a near-azeotropic mixture of difluoromethane (CH2F2, called R-32) and pentafluoroethane (C2HF5, called R-125), which is used as a refrigerant in air conditioning applications. Unlike many haloalkane refrigerants it does not contribute to ozone depletion, and is therefore widely used. Carrier Corporation was the first company to introduce a R-410A-based residential air conditioning unit in the marketplace in 1996. Now R-410A is the preferred refrigerant for use in residential and commercial air conditioners in Japan and Europe, replacing R-22.
Product Application:
R410A Refrigerant is widely used as a refrigerant in many air conditioning applications, usually packaged in rose colour cylinders.
Due to the nature of R410a properties which is of a HFC (hydrofluorocarbons) refrigerant, it does not has any ozone depletion potential (Zero ODP) and thus introduced as a greener choice for R22 for use in both residential and commercial air-conditioning products.
The manufacture and use of refrigerants in air-conditioners that cause ozone depletion and global warming are regulated under the Montreal Protocol and the Kyoto Protocol. Eventually conventional refrigerants such as HCFC (example R22) will be abolished within 2030 in both developed and developing countries.
Demand for R410a refrigerant and other HFC will gradually increase because of it's lower environmental burden.
Product Note:
R-410A cannot use R-22 service equipment because of higher operating pressures (approximately 40 to 70% higher).
While R-410A has negligible fractionation potential, it can't be ignored when charging.
To avoid fractionation as the system is charged and for optimum system performance, the correct type of cylinder has to be used for charging – if a cylinder with dip-tubes are used, R-410A can be charged while the cylinder is upright. However, if the cylinder doesn't have dip-tubes, it should be kept upside-down.
Product Technical Specification:
Formula

| | |
| --- | --- |
| CH2F2 | (50%) |
| CHF2CF3 | (50%) |

Molecular weight (Da)
72.6
Melting point (°C)
−155
Boiling point (°C)
−48.5
Liquid density (30°C), kg/m3
1040
Vapour density (30°C), air=1.0
3.0
Vapour pressure at 21.1°C (MPa)
1.383
Critical temperature (°C)
72.8
Critical pressure, MPa
4.90
Gas heat capacity (kJ/(kg·°C))
0.84
Liquid heat capacity @ 1 atm, 30°C, (kJ/(kg·°C))
1.8
Available Packing Size: 0.00
Sharjah Chemicals offers highest quality products in Paint and Cleaning Solvent, Tank cleaning, Detergent, Degreaser & Floor care chemicals. We assure quality and ensure that only the best is catered to the customers.Our basic motto of the company is to give a better product to the customer at the lowest rate. We are keeping ready stock of Refrigerant R410a , for more information, any support and price, Feel free to contact us through our Email id sharjahchemicals@gmail.com
Free Delivery / Supply Locations :
Oman, Bahrain, Abu Dhabi, Ajman, Al Ain, Dubai, Ras Al-Khaimah, Ras al Khaimah, Fujairah, Sharjah, Umm Al Quwain, Fujairah, Ruwais, Mina (Port) Zayed, Khalifa Port, Kizad, Port Rashid, Jebel Ali Port, DP WORLD, Jebel Ali Free Zone, Khor Fakkan Container Terminal, Port Rashid, Jebel Ali Port, Mina Kalid Port, Khor Fhakan Port ( Khawr Fakkan, Khawr al-Fakkan ), Sharjah Creek, Ajman, Port of Hamriyah, Mina Zayed Port, Mussafah port, Khalifa Port, Umm al-Nar Port, Um Al Quwain Port, Saqr Port, Port of Fujairah, Dibba Port, Jebel Dhanna, Mina Al Hamriya, Mina Rashid, All United Arab Emirates.