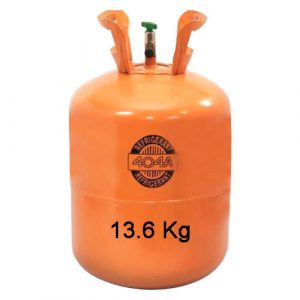 Sharjah Chemicals is leading Supplier and Manufacturer of Refrigerant R 404A in Sharjah UAE, Al Qusais, Deira, Saif Zone, Fujairah,Dubai, Abudhabi, Ajman, Diera, UAE Middle East, Al Quoz, Jebel Ali, Umm Al Quwain, Ras Al Khaimah, Masafi, Khor Fakkan, Al Hayl, Al Ain, Ras Al Khor Industrial Area, Al khubaisi, Umm Ramool Industrial Area, Al Qusais Industrial Area,  Jebel Ali.
Product Information:
Refrigerant R 404A : RXSOL-66-6626-045
Refrigerant Freon R 404A (HP62) has been the long-standing HFC replacement for R-502 and R-22 in refrigeration applications. Refrigerant Gas R404A is also suitable for Medium and low temperature commercial and industrial direct expansion refrigeration and ice machines.
A synthetic HFC refrigerant which is harmless to the ozone layer. The gas is used in a variety of maritime refrigeration applications such as low and medium temperature applications (evaporating temperatures of -45 to +8° C).
Product Application:
Good replacement of R-22 & R-502 refrigerant. Refrigerant Gas R404A vapors have Similar PT and flow properties to R-502 Higher capacity than R-22, therefore requires TXV change
Refrigerant Gas R404A is best suitable for new Commercial refrigeration equipment as well as R 404A can be used as replacement of existing R-502 equipment.
Product Note:
Future :
All refillable cylinders are inspected prior to refilling.
Residue refrigerant recovered to prevent environmental damage.
Content is 100% genuine virgin refrigerant from an approved producer.
Conforms to ARI-700 purity standard.
A replacement option for R-502 and R-22.
Most suitable for new systems.
Benefits
Worldwide compliance.
Assured quality.
Refillable cylinders.
Refrigerant Gas R404A vapors are heavier than air and can cause asphyxiation by the displacement of air. Contact with the liquid can cause frostbite. Prolonged exposure to fire or intense heat may cause the containers to rupture violently and rocket Hazards.
Product Technical Specification:
Contents:              56
Weight                  45
Colour                   Orange
It is non toxic and non flammable meeting the highest A1/A1 classification.
ODP = 0  ( Ozone Depletion Potential )
GWP = 3260 ( Global Warming Potential (IPCC Fourth Assessment Report – AR4)
Oil = POE
Available Packing Size: 1.00 Cylinder
Sharjah Chemicals offers highest quality products in Paint and Cleaning Solvent, Tank cleaning, Detergent, Degreaser & Floor care chemicals. We assure quality and ensure that only the best is catered to the customers.Our basic motto of the company is to give a better product to the customer at the lowest rate. We are keeping ready stock of Refrigerant R 404A , for more information, any support and price, Feel free to contact us through our Email id sharjahchemicals@gmail.com
Free Delivery / Supply Locations :
Oman, Bahrain, Abu Dhabi, Ajman, Al Ain, Dubai, Ras Al-Khaimah, Ras al Khaimah, Fujairah, Sharjah, Umm Al Quwain, Fujairah, Ruwais, Mina (Port) Zayed, Khalifa Port, Kizad, Port Rashid, Jebel Ali Port, DP WORLD, Jebel Ali Free Zone, Khor Fakkan Container Terminal, Port Rashid, Jebel Ali Port, Mina Kalid Port, Khor Fhakan Port ( Khawr Fakkan, Khawr al-Fakkan ), Sharjah Creek, Ajman, Port of Hamriyah, Mina Zayed Port, Mussafah port, Khalifa Port, Umm al-Nar Port, Um Al Quwain Port, Saqr Port, Port of Fujairah, Dibba Port, Jebel Dhanna, Mina Al Hamriya, Mina Rashid, All United Arab Emirates.