Sharjah Chemicals is leading Supplier, Manufacture and Exporter of Polyaluminum Chloride in Sharjah UAE, Al Qusais, Deira, Saif Zone, Fujairah,Dubai, Abudhabi, Ajman, Diera, UAE Middle East, Al Quoz, Jebel Ali, Umm Al Quawain, Ras Al Khaimah, Masafi, Khor Fakkan, Al Hayl, Al Ain, Ras Al Khor Industrial Area, Al khubaisi,  Um Ramool Industrial Area, Al Qusais Industrial Area,  Jebel Ali.
Product Information:
Polyaluminum Chloride is a polyvalent polymeric electrolyte coagulant of inorganic polymer, which is a intermediate hydrolysate between aluminum trichloride and aluminum hydroxide. Because of the bridging effect of chlorine ions and the polymerization of polyvalent ions, inorganic macromolecule water treatment agents with larger molecular weight and higher charge are formed.
Product Application:
Poly Aluminium Chloride(PAC) can be used as a flocculant for all types of water treatment,drinking water,industrial waste water,urban waste water and in the paper industry.Compared with other coagulants,this product possesses the following advantages.
1.Wider application, better water adaptation.
2.Quickly shape big alum bubble,and with good precipitation.
3.Better adaptation to PH value(5-9),and little declining range of PH value and alkalinity of water after treatment.
4.Keeping stable precipitation effect at lower water temperature.
5.Higher alkalization than other aluminium salt and iron salt,and little erosion to equipments.
Product Note:
Product Technical Specification: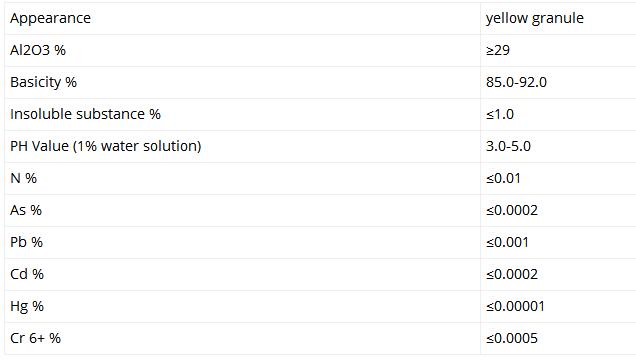 Available Packing Size: ….
Supplier:
Polyaluminum Chloride Supplier in Oman , Fujairah, Sharjah, Dubai, Abudhabi
Sharjah Chemicals offers highest quality products in Paint and Cleaning Solvent, Tank cleaning, Detergent, Degreaser & Floor care chemical. We assure for quality and ensure that only the best is catered to the customers.Our basic motto of the company is to give a better product to the customer at the lowest rate. We are keeping ready stock of Polyaluminum Chloride, for more information, any support and price, Feel free to contact us through our Email id sharjahchemicals@gmail.com