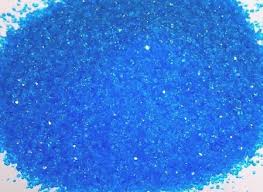 Sharjah Chemicals is leading Supplier, Manufacture and Exporter of Cupric Sulfate pentahydrate in Sharjah UAE, Al Qusais, Deira, Saif Zone, Fujairah,Dubai, Abudhabi, Ajman, Diera, UAE Middle East, Al Quoz, Jebel Ali, Umm Al Quawain, Ras Al Khaimah, Masafi, Khor Fakkan, Al Hayl, Al Ain, Ras Al Khor Industrial Area, Al khubaisi,  Um Ramool Industrial Area, Al Qusais Industrial Area,  Jebel Ali.
Cupric Sulfate Pentahydrate is inorganic compound with the chemical formula CuSO4. Based on the degree of hydration, this salt exists as a series of compounds that differ in. The anhydrous salt is a white powder; the pentahydrate (CuSO4·5H2O) is bright blue. Industrially, Copper sulfate is produced by treating copper metal with hot concentrated sulfuric acid or its oxides with dilute sulfuric acid. Copper sulfate can also be produced by slowly leaching low grade copper ore in air; bacteria may be used to hasten the process. Commercial copper sulfate is usually about 98% pure copper sulfate, and may contain traces of water. Copper (II) sulfate has wide various uses, it is used in agriculture as a pesticide, germicide, feed additive and soil additive. It is used in the preparation of other copper compounds, electrolyte for batteries, and as electroplating solutions. It is also used as a floatation reagent in recovery of zinc and lead. Many other uses such as Niche uses, analytical reagent, organic synthesis, etch zinc or copper plates, a mordant in vegetable dyeing. Synonyms: Copper(II) Sulfatepentahydrate, Cupric Sulfatepentahydrate.
Available Packing Size: 500 gram.
Sharjah Chemicals offers highest quality products in Tank cleaning, Detergent, Degreaser & Floor care chemical. We assure for quality and ensure that only the best is catered to the customers.Our basic motto of the company is to give a better product to the customer at the lowest rate. We are keeping ready stock of Cupric Sulfate Pentahydrate, for more information, any support and price, Feel free to contact us through our Email id sharjahchemicals@gmail.com