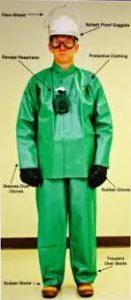 Sharjah Chemicals is leading Supplier, Manufacture and Exporter of Chemical Handling Apron in Sharjah UAE, Al Qusais, Deira, Saif Zone, Fujairah,Dubai, Abudhabi, Ajman, Diera, UAE Middle East, Al Quoz, Jebel Ali, Umm Al Quawain, Ras Al Khaimah, Masafi, Khor Fakkan, Al Hayl, Al Ain, Ras Al Khor Industrial Area, Al khubaisi,  Um Ramool Industrial Area, Al Qusais Industrial Area,  Jebel Ali.
Product Information:
Chemical Handling Apron  : RXSOL-64-2629-001
Chemical Protective clothing to protect from chemical hazards that can and can  be seen, such as dangerous vapors, liquids, and particles during handling of job for asbestos abatement, applying insulation, or handling industrial chemicals, We blend our experience to check quality of chemical protective cloth which made to help reduce worker chemical exposure while performing their jobs. It just another way we helping hazardous work become less hazardous to the worker.
Product Application:
Product Note:
Product Technical Specification:
Available Packing Size: 0.00
Sharjah Chemicals offers highest quality products in Paint and Cleaning Solvent, Tank cleaning, Detergent, Degreaser & Floor care chemical. We assure for quality and ensure that only the best is catered to the customers.Our basic motto of the company is to give a better product to the customer at the lowest rate. We are keeping ready stock of Chemical Handling Apron , for more information, any support and price, Feel free to contact us through our Email id sharjahchemicals@gmail.com
Free Delivery / Supply Locations :
Oman, Bahrain, Abu Dhabi, Ajman, Al Ain, Dubai, Ras Al-Khaimah, Ras al Khaimah, Fujairah, Sharjah, Umm Al Quwain, Fujairah, Ruwais, Mina (Port) Zayed, Khalifa Port, Kizad, Port Rashid, Jebel Ali Port, DP WORLD, Jebel Ali Free Zone, Khor Fakkan Container Terminal, Port Rashid, Jebel Ali Port, Mina Kalid Port, Khor Fhakan Port ( Khawr Fakkan, Khawr al-Fakkan ), Sharjah Creek, Ajman, Port of Hamriyah, Mina Zayed Port, Mussafah port, Khalifa Port, Umm al-Nar Port, Um Al Quwain Port, Saqr Port, Port of Fujairah, Dibba Port, Jebel Dhanna, Mina Al Hamriya, Mina Rashid, All United Arab Emirates