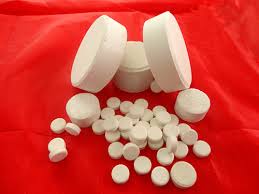 Sharjah Chemicals is leading Supplier, Manufacture and Exporter of Calcium Hypochlorite Tablet  in Sharjah UAE, Al Qusais, Deira, Saif Zone, Fujairah,Dubai, Abudhabi, Ajman, Diera, UAE Middle East, Al Quoz, Jebel Ali, Umm Al Quawain, Ras Al Khaimah, Masafi, Khor Fakkan, Al Hayl, Al Ain, Ras Al Khor Industrial Area, Al khubaisi,  Um Ramool Industrial Area, Al Qusais Industrial Area,  Jebel Ali.
As you are aware of the current CORONA VIRUS issue which is a wide spread pandemic in all over the world.And to fight the same WHO (World Health Organization) has suggested to use HAND SANITIZER, Disinfectants.
Product Information:
Calcium Hypochlorite Tablet
These highly concentrated solid calcium hypochlorite products deliver up to 65% available chlorine and are used extensively in a wide range of commercial, industrial and municipal applications where their safety, quality and performance characteristics offer significant environmental, operational and financial benefits.
Product Application:
A multi-functional sanitizer product with utility in many industrial applications such as:
Industrial water treatment including cooling towers, for chlorination's, disinfection, oxidation and more
Wastewater and effluent treatment
Grey water and recycled water treatment, including reservoirs, storage tanks and treatment plants
Food and beverage processing
Cleaning and sanitising
CIP
Pulp and paper processing
Laundry
Swimming pools and spas
Benefits
High performance, cost-efficient sanitiser in a convenient, easy to handle solid granular or tablet format
Highly concentrated solid form – very efficient, calcium-based chlorine donor typically delivering upto 65% available chlorine. More concentrated than liquid bleach or sodium hypochlorite
Promotes employee safety by minimising manual handling and safety hazards associated with heavy liquid filled drums
Minimise safety risks associated with chemical exposure, storage, liquid pouring, and spill and splash hazards
Significant environmental benefits with reduced transportation costs – don't pay to transport water
Excellent dissolution rates
Less contribution to TDS and pH than liquid chlorine
Much longer shelf life than liquid bleach and sodium hypochlorite
Reduces plant and equipment corrosion
Convenient, "easy to handle" pack sizes
Guaranteed quality and performance
Calcium hypochlorite, weight of one tablet: 7g
Dosing:
Dependent upon specific application.
For evaporative cooling refer to HSE document L8 "The control of legionella bacteria in water systems".
For drinking water the product should be utilized in conjunction with suitable measurement and control equipment.
For pool water, test the pool water with a suitable test kit to determine chlorine levels. A free reserve of 1 to 3 ppm as free chlorine should be achieved.
Product Note:
Calcium Hypochlorite Tablets should be stored in dark conditions and exposure to sunlight should be kept to a minimum.
Calcium Hypochlorite Tablets should not be stored with organic materials or acids.
Product Technical Specification:
Available Packing Size: 10, 45 Kg
Sharjah Chemicals offers highest quality products in Paint and Cleaning Solvent, Tank cleaning, Detergent, Degreaser & Floor care chemical. We assure for quality and ensure that only the best is catered to the customers.Our basic motto of the company is to give a better product to the customer at the lowest rate. We are keeping ready stock of Calcium Hypochlorite Tablet , for more information, any support and price, Feel free to contact us through our Email id sharjahchemicals@gmail.com
Free Delivery / Supply Locations :
Oman, Bahrain, Abu Dhabi, Ajman, Al Ain, Dubai, Ras Al-Khaimah, Ras al Khaimah, Fujairah, Sharjah, Umm Al Quwain, Fujairah, Ruwais, Mina (Port) Zayed, Khalifa Port, Kizad, Port Rashid, Jebel Ali Port, DP WORLD, Jebel Ali Free Zone, Khor Fakkan Container Terminal, Port Rashid, Jebel Ali Port, Mina Kalid Port, Khor Fhakan Port ( Khawr Fakkan, Khawr al-Fakkan ), Sharjah Creek, Ajman, Port of Hamriyah, Mina Zayed Port, Mussafah port, Khalifa Port, Umm al-Nar Port, Um Al Quwain Port, Saqr Port, Port of Fujairah, Dibba Port, Jebel Dhanna, Mina Al Hamriya, Mina Rashid, All United Arab Emirates